Thomas Foster (1852 - 1945)
Thomas Foster was born near Toronto, and raised in Scott Township north of Uxbridge where his father ran the Leaskdale Hotel. He became a butcher in Cabbagetown in Toronto, was elected M.P., and served as mayor of Toronto from 1925 to 1927. He also made a large fortune from real estate.
The Thomas Foster Memorial
Foster visited India in his late seventies. After seeing the famous Taj Mahal, Foster was inspired to build a memorial in his boyhood community, with a Christian adaptation. The Memorial was erected in 1935-36, and cost $250,000. It contains three crypts for Mr. Foster, his wife and daughter.
J.H. Craig, (1889 - 1954), was the principal architect of the temple. Together with artchitect H.H. Madill (1889 - 1988), they worked on an entirely new and original design based on Byzantine architecture.
An Unusual Contest
Thomas Foster held a contest to find the lady who could have the most children in 10 years.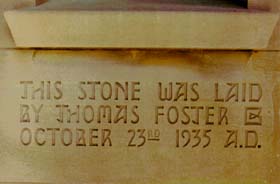 An Unusual Will
Included in Thomas Foster's will were funds:



to feed Toronto birds in winter.


for needy newsboys in Toronto.


to plant trees on roads leading into Toronto.


to apprehend poachers around Toronto.


for an annual inner-city school picnic.


for cancer research.


for the Leaskdale Sunday School.


to maintain the Memorial.

Enter the Memorial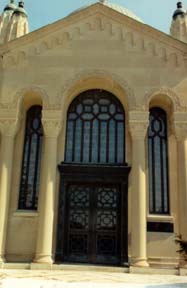 On September 21, 1996, a special historical designation ceremony was held at the Memorial. The Local Architectural Conservation Advisory Committee (LACAC) unveiled the plaque from the province acknowledging the domed mausoleum's uniqueness.

More About the Foster Memorial


---





Information provided by Uxbridge-Scott Museum
Photos by Kimberley Kelland
This webpage is sponsored by Uxbridge On-Line Inc. &copy 1996-2006. All Rights Reserved. online@uxbridge.com