www.UXBRIDGE.com website is owned & operated by Uxbridge On-Line Inc., since 1996.
The website was last modified on August 20, 2014 0:44 AM . Check out What's New


Calls for All Local Business Professionals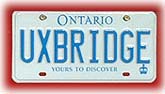 Join the
UXBRIDGE ONTARIO
LinkedIn Group and meet over 340 local professionals.
Take a look at the vital
statistics
on the latest activity, growth, and demographics
of the "Uxbridge Ontario" LinkedIn Group.


To advertise your business or 2014 Events on www.uxbridge.com website, please contact Annie Hardock of Uxbridge On-Line Inc.
E-mail: online@uxbridge.com; or Tel.: 905-852-6686.

Internet Advertising with Proven Results.
www.uxbridge.com receives over 16,000 unique visits per month.
Visit the Uxbridge Real Estate Homepage for More Property Listings

FEATURED PROPERTIES IN SURROUNDING AREAS

Ranch Style Bungalow
Sitting atop a high view point with breathtaking views of city lights, lake and sunset. 40 Acres include the Oversized Barn with Adjustable Stalls. Several Paddocks, Huge Arena. Drive Shed. Perfect for Horse Lovers or Business OP with a "Horse Retreat" theme.

Prestigious Foxfire Estate
Move into the rolling hills, winding road and towering trees of prestigious Foxfire Estates. This fabulous quality built, executive Wycliffe home of 3,930 square feet is situated privately among perennial gardens and trees on three acres with a mature maple and oak forest.
Overlook the Entire Uxbridge Creek Valley
Great Retreat or Private Country Cottage. Very private. 14.7 acres on creek under Land Conservation Agreement in the valley at the edge of creek and adjacent to creek. Partially fenced. 3 bedroom log cabin. Lots of bush with trails, dug pond.
• Community Profile • Photos • Map • Virtual Tour • Kids
• Uxbridge Business Directory • Online Business Resource Center
• Arts & Entertainment / Music • Health & Wellness • Sports & Recreation
• Uxbridge Online Events Calendar • Accommodations • Online Store
• Real Estate • Commercial & Residential Services
---
www.uxbridge.com website is owned & operated by Uxbridge On-Line Inc.
Unauthorized use of any content or graphic images taken from the www.uxbridge.com website is unethical. All content and images on www.uxbridge.com are the properties of Uxbridge On-Line Inc.©1996-2010. All Rights Reserved.
Promoting Uxbridge's Lifestyle & Businesses on the Net since 1996

*The Map of Uxbridge Township is Available through www.MapQuest.com;
"A Journey to the Past" photo by Ed Evans;
"Uxbridge - The Present" photo by Kimberley Kelland;
Graphic images of Santa on www.uxbridge.com were created by Kevin Frank for Uxbridge On-Line Inc.. All rights reserved.