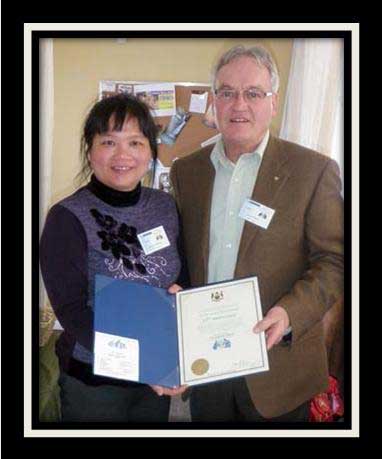 Uxbridge Networking Group 12th Anniversary
Congratulations from
John O'Toole, M.P.P. - Durham
"You are to be commended for working together to support small and home-based businesses by sharing ideas, experiences and expertise. Thank you for building a stronger community through outstanding products and services, plus a commitment to excellence. Please accept my best wishes on behalf of the Province of Ontario and the citizens of Durham Riding.
"
January 29, 2010
Company Profile
Uxbridge On-Line Inc. was founded in May 1996 by Uxbridge local resident Annie Hardock. Annie worked for a few major Canadian Banks in Toronto after graduating in 1985 from the University of Waterloo with her Honours Bachelor of Mathematics degree (with double majors in Computer Science, and Combinatorics & Optimizations). In 1991, she started her own system consulting company "Open Business Systems". The company specialized in client-server system development projects for large financial institutions. Project involvement ranged from business analysis to system implementation, from liaison between users and technical groups to project management, from co-ordination of Wide Area Network installation to administration of network and database environments.
With the business knowledge and broad technical skills gained from the consulting business, Annie was looking for new challenges and opportunities to expand the business. In 1996, she incorporated the company Uxbridge On-Line Inc..
In an effort to extend from the consulting business, Uxbridge On-Line Inc. has made the investment in developing the Internet web site www.uxbridge.com with the goal of providing resources and exposure to promote Uxbridge Township's businesses and tourism in the global market. The web site was first launched in July 1996. In April 2007, the Uxbridge Online Store was launched to provide e-commerce market for local businesses. Currently, the www.uxbridge.com website receives over 28,000 unique visits per month.
---
More About Annie Hardock
Co-owner of Abacus Uxbridge Inc. O/A ABS Abacus Brain Study
Current President of the Uxbridge & Area Networking Group for Small & Home Based Businesses.
3rd Dan black belt, International Karate Association of Canada
Student of Certified Iyenga Hatha Yoga teacher Elizabeth Stocking, since 1999.
Member of Taoist Tai Chi Society of Canada.
Received Certification from The Royal Conservatory of Music for Grade 10 piano in 2007. Enjoy music compositions from her original poems.
Annie participated in the Uxbridge Township Strategic Planning
-- Economic Development Task Group in 1997.
Received the Order of Sport Excellence Achievement Award from the Province of Manitoba in representing the province to compete at the Canadian National Table Tennis Championship in 1981.
---
Uxbridge Fall Fair
Nicole Scott - Passion for Nutrition, Annie Hardock - Chair of Uxbridge Networking Group, Susan Kern, Larry and Marg Prohaska - BNNK, Rigo Borquez - Uxbridge Manor & Spa
Uxbridge Santa Claus Parade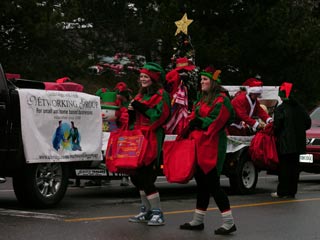 Uxbridge Local Business Directory