Uxbridge, Ontario Real Estate, a Rural Treasure...
Uxbridge, Ontario is a vibrant, caring community that stands to protect and enhance the beauty and tranquility of its rural setting through managed growth.
It also strives to maintain the close-knit lifestyle of a small historic town and is vigilant in its quest to protect its local natural environment.
Uxbridge, Ontario enjoys a thriving local economy, both urban and rural, as well as rich and varied social, cultural, recreational and health programs.
Whether it's residential or commercial property you're looking for, Uxbridge, Ontario real estate is always prime.
See what's <!a href="http://www.multiplelistings.ca/propertySearch#gmapSearchList?">available now.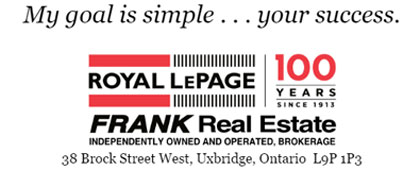 www.corapeirson.com
corapeirson@sympatico.ca
Phone: 905-852-3050
Toll Free: 1-877-852-3050
Mobile: 416-791-1948
Fax: (905) 852-9039

Over her 26 years in real estate , Cora worked with two previous real estate companies prior to moving to Royal LePage Frank in May 2009. Over the years she has gained extensive experience in selling country estates, farms and residential properties in Uxbridge, Brock, and Scugog Township and continues to be a consistent award winner. Cora Peirson has your best interests at heart whether you are buying or selling your home.
Cora knew when she began her real estate career 26 years ago that she had found her niche. "I truly enjoy the diversity real estate has to offer. It keeps my work interesting, challenging and exciting. I enjoy meeting new people on a daily basis and I particularly like the community spirit that a smaller town like Uxbridge has to offer."
After a successful 20 year career in nursing, Cora made the leap into real estate. As a nurse, she learned to be a good listener and in real estate that is equally important. Her sympathetic attitude and dedication to her client's needs has resulted in a huge number of referrals and high percentage of repeat business from previous clients.