Individuals and families often turn to "starting their own business." The people who work hard, love a challenge, and support their community make great citizens. These are the same people you find in small business operations.

Support your community's small businesses.

John O'Toole
MPP Durham
August 2009

"Clearly small business and entrepreneurs are at the heart of our economy. Organizations such as the Uxbridge and Area Networking Group are one of the ways for small business and entrepreneurs to meet and work together. Congratulations on your first decade of networking and to all of the business and members in Uxbridge."
John O'Toole
MPP Durham
March 2009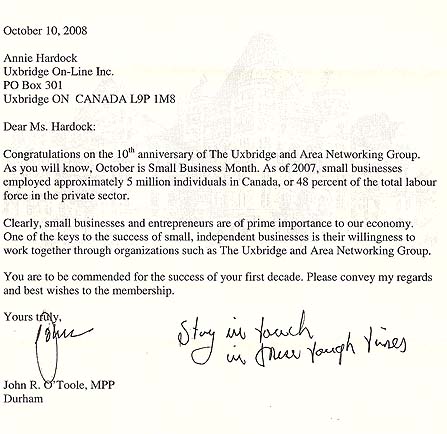 "Uxbridge Natural Healing Centre practitioners decided that it would be nice to wear tops that would all be similar and also bear the name and logo of the centre. Sharon (Sharon's Custom Embroidery) came to the centre to show us a variety of designs and colours. We placed the individual orders according to style, colour and size. Within just a few days they all arrived. We all loved them . The quality , workmanship, customer service and price are all excellent."
John Wilson
Shiatsu Practitioner
Uxbridge Natural Healing Centre
August 2008
"I would like to give special thanks to Patty and Sean Catherwood of
Uxbridge Natural Healing Centre for their contribution to the speedy
recovery of my mom's shingles. Patty's special essential oil that she
made for healing shingles did wonders for my mom. The two reflexology sessions that my mom received from Sean gave her relief from the pain and lessened the swelling of her left eye."
"As a small business owner, I have to be very careful where I spend my advertising dollar. Participating in the Santa Claus Parade with the Uxbridge Networking Group float reached the target audience perfectly. I had more response from this form of advertising than anything else I tried this year. It took a little effort to prepare the 1,000 Uxbridge Networking Group gift packets, but it was worth it."


Kathy Normandeau
Uxbridge Music Centre
December, 2007
"I did get a call yesterday for a new mortgage from someone who lives in Whitby and is moving to Uxbridge. She was at the
fair (Uxbridge Fall Fair) on the weekend and picked up one of my booklets on new home purchases (at the Uxbridge Networking Group booth). So that was great!"


Caroline Walker
Mortgage Intelligence
September 13, 2007
"This testimonial is for BNNK Karate (Larry and Marg Prohaska).
My younger daughter, Christina, had wanted to join a martial arts group and I know nothing any of the groups in town. She didn't have anyone to join with either. I spoke to Larry and Marg and they told me to try a couple of classes for free to try it out and Christina loved it. She joined alone and was starting to feel very shy and Larry and Marg worked with her one on one. It made a big difference, if she didn't have that extra attention at the beginning, she may have wanted to drop out of the class. Larry and Marg give extra special attention to the kids and Larry showed me some self-defence techniques as well.
Thanks very much to Larry and Marg."


Catherine E. Piazza
Trillium Mortgage
November 01, 2006
"I ordered a basket from Give 'em a Basket (Gayle Summerland). I was really pleased. I told her exactly what I wanted, and she put together a beautiful basket, with practical items and on top of it, she delivered it to my house. It was fantastic and the recipients loved it! Thanks very much to Gayle."

Catherine E. Piazza
Trillium Mortgage
November 01, 2006
"I have recently got a new insulated garage door installed by our member of Upright Door Service. Alan Fortnum and his brother Jim have done a very professional job and thanks Al for bringing back and forth various samples for me to choose. My neighbour couple doors down also got a new garage door installed through Upright Door Service. Al and his brother Jim's professional service is highly recommended."

Annie Hardock
Uxbridge On-Line Inc.
November 01, 2006
"I had an opportunity to visit
Optometrist Dr. Bahn's
office with my two children. He was extremely professional, explained everything so well so we could understand what was going on and was really nice and courteous, along with his whole office staff. I was very pleased with my visit and glad I was able to find him and utilize his services, via the Networking Group."
Catherine E. Piazza
Trillium Mortgage
September 06, 2006
More testimonials from previous years