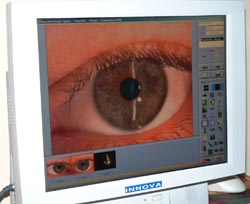 SEEING IS BELIEVING!

Dr. Banh is one of the few optometrists in Ontario to use EYECAP, a digital imaging system that takes pictures of the eye and transfers the image onto a computer screen. Now his patients can see conditions such as cataracts, mascular degeneration and glaucoma.

With this state of the art technology, Dr. Banh can take a photo of the area of interest and monitor any changes over time. His patients can even take a picture home.
Our computer assisted digital retinal camera, and slit lamp imaging enable us to provide a more thorough record of the health of your eyes.

Digital Imaging can assist us in early detection of ocular problems including central retinal diseasees, central detachments, holes, thinning, optic nerve disease (glaucoma), pre-cancerous lesions, macular degeneration, hypertensive retinopathy, and diabetic retinopathy.

This type of testing also allows us to store these images to compare with the results of future tests so that a complete ocular health history can be generated. This will allow us to see minute changes that we may not have been able to identify without these tests.

We strongly recommend that ALL of our patients receive this test. It is especially important for those patients who have a personal or family history of high blood pressure, diabetes, retinal problems, headaches, floaters, flashing light streaks, a strong prescription for glasses, diminishing vision, macular degeneration, cataracts and are taking certain medications.

Dr. Vi Tu Banh
complete ocular examinations
dilated fundus examination
eyeglass dispensary (including many name brand fashion prescription and sunglass frames)
spectacle adjustments & repairs
contact lens fitting, training & dispensing (including specialty lenses; coloured, disposable & bifocal contacts & rigid gas permeable contacts)
laser refractive surgery consultations & co-management
vision screen testing at schools
Individuals should have their eyes examined at least every two years. However, we do recommend the following individuals have their eyes examined yearly.

children
individuals with diabetes / high blood pressure
individuals over 65 years of age
individuals with known ocular diseases or strong family history of ocular diseases such as glaucoma
individuals with severe myopia (nearsightedness)
individuals who have undergone laser refractive surgery
All children should have their eyes examined before entering school. Ideally, children should be examined by the age of 3 (younger if parents suspect an ocular problem). Children who have a known family history of lazy eye (amblyopia) or an eye turn (strabismus) should be seen much younger (as early as 6 months old).
A complete ocular assessment includes a number of tests which measure visual acuity, refraction (spectacle prescription), binocular vision, and ocular health evaluations for cataracts, glaucoma, macular degeneration & other eye diseases.