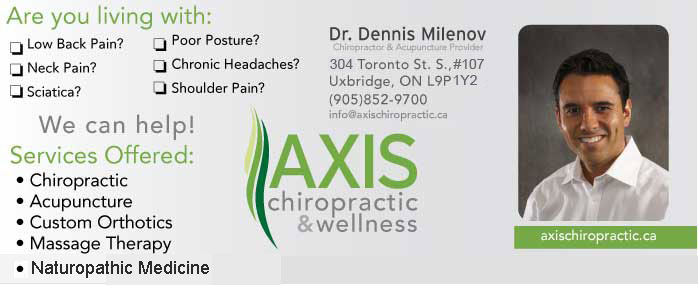 Located in the heart of Uxbridge, Axis Chiropractic & Wellness (formerly Begg Chiropractic) has been serving Uxbridge and surrounding communities since 1991.
Dr. Dennis Milenov and his team of allied health professionals are dedicated to helping you achieve your health and wellness goals. We treat a variety of acute and chronic conditions using an effective, natural approach that helps patients of all ages live healthier, pain-free lives. We work to find the cause of your health problems and provide a treatment plan that gets great results. From pain relief to wellness care, we will customize a treatment plan that's right for you.
Call 905-852-9700 for a COMPLIMENTARY CONSULTATION to discuss your health issues, or email info@axischiropractic.ca. For further information, visit the website at www.axischiropractic.ca
NEW PATIENTS WELCOME!